RF7050TVW 7-50X 360-degree swiveling Double Boom Trinocular Microscope with Adjustable 10X/22MM eyepieces
This is a Trinocular 7-50X Continuous zoom microscope that gives clear sharp images. It comes with a Trinocular head with 30mm super widefield, high-eyepoint 10X eyepieces and a double-arm heavy-duty boom stand.
The 45 degree inclined binocular and high-eyepoint design ensures an easy observation, especially for eyeglass wearers. The rubber eye-guards provide further comfort. The double-arm boom stand allows you to turn the microscope head around three different axes (x, y, and z), allowing you to point the microscope head toward to any direction.
This microscope offers high resolution, super widefield of view.It is an ideal instrument for research labs, gemologists, engravers, collectors and anyone in semiconductor and/or electronic industry.
Magnification:continuous zoom 7X to 50X
Head: 45-degree inclined 360-degree swiveling trinocular
Eyepiece: WF10X/22MM Barlow Lens: 0.5X & 0.7&2.0X(optional)
Objective: 0.7-5.0X Camera connector:1/2ctv Monitor and eyepiece. Synchronous zoom
Camera:Different models optional
Boom Stand: 51cm double-arm (overall length: 76cm)
41cm high pillar, 200mm*245mm solid cast steel base
Accessories: 144 adjustable led light & dust proof Lens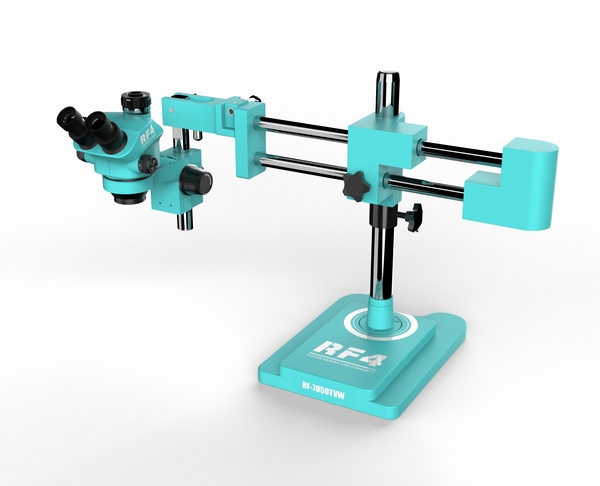 Product Description