3102D Rework Station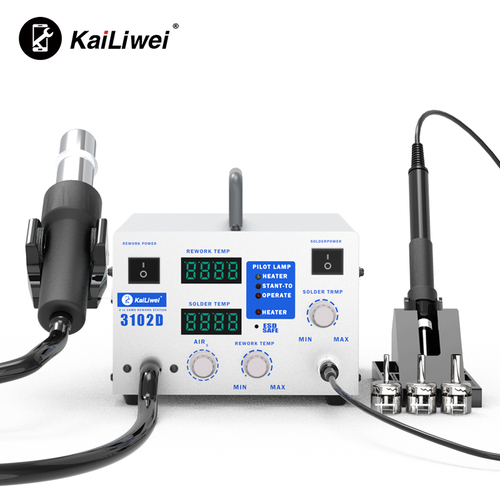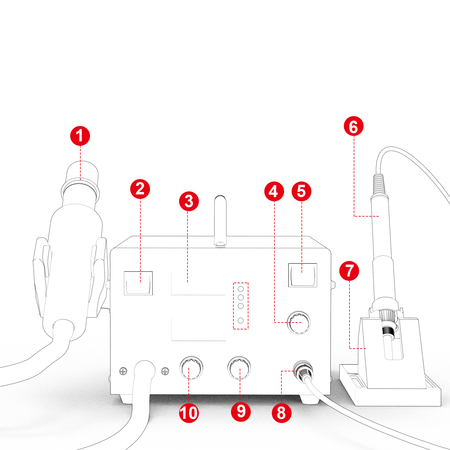 structure
1.Air gun
2.Rework power
3.LED digital display
4.Temp control knob
5. Solder power
6. Electric soldering iron
7. Soldering iron stand
8. Soldering iron interface
9. Rework Temp
10. Air volume control knob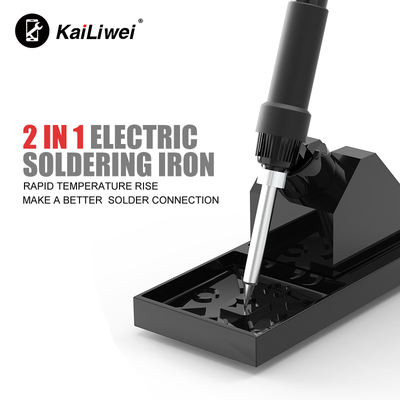 Electric soldering iron
High efficiency heating ,good tin effect and long use life,with electric soldering bracket easy to place.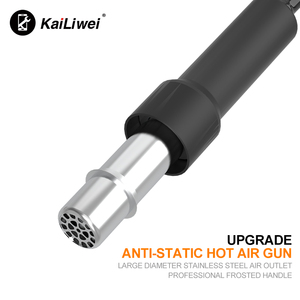 Air gun
Handle with sensor switch features access operating mode when picks up or standby mode when lays down
1、Technical Specifications
1) Power consumption: 700 w
2) Type pump stream:Air pump
3) Gas flow rate: 120 litres/minute
4) Display form: LED digital (resolution 1 ° C)
5) Host size: 320*227*275mm
6) Weight:3.4kg
7) Air Gun Temperature range:100-480℃
8) Iron temperature: 200-500℃
9) Temperature/wind regulation:knob/knob
2.Application
Suitable for SOIC, CHIP, QFP, PLCC, BGA and temperature-sensitive components;Fits for heating shrink, drying, lacquer removal, viscidity removal, ice-out, pre-heating and glue soldering.
3、Features:
1. Hot air and hot iron 2in1 soldering rework station
2. Extremely low noise and space saving design
3. Advanced SMD technology for more stability use
4. Use Dual LED digital displays to show precision temperature
5. High quality microcomputer control, quick warming-up
6. Digital PID technology to enhance temperature stability
7. Adjust the airflow and temperature control rotation easily
8. Automatically stop rotation when the temperature is less than 70°C
9. Intelligence self-detection function features safe personal operation
10. Auto and manual startup function of airflow temperature for more personality and convenience
11. Automatic cooling function for effectively prolonging the heater's life and protecting the hot air gun
12. ESD design of soldering iron to protect sensitive components
13. International standard heater for convenient use and exchange
14. High-quality resistance for durable use
15. Plastic holder for placing the hot air gun,alloy iron stand for keeping the iron from flammable materials
16. Input voltage: AC220V/AC110V/AC230V/AC240V optional
17. CE approved
4. Notice:
(1) Do not touch the nozzle.
(2) Keep away from children.
(3) Do not use for hair dryer
(4) Do not direct the heat toward human or animal.
(5) Do not use it in wet condition
(6) Focus when working.
(7) Hot air rework station outlet and the surrounding may have extremely high temperatures, care should be taken to guard against burns.