T12X Soldering station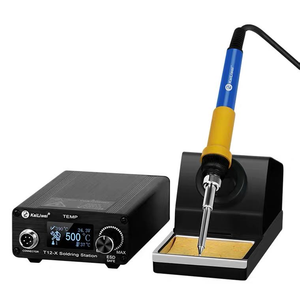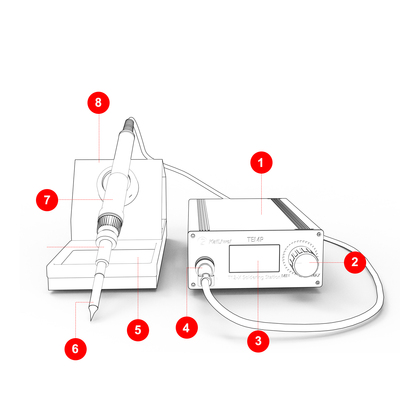 structure
1. soldering station
2. Temperature adjustment knob
3. LED display
4. Soldering iron socket
5. Cleaning sponge
6. Soldering iron tip
7. Soldering iron handle
8. Soldering iron base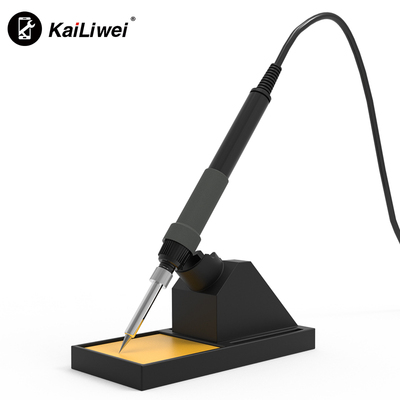 The soldering station handle
Lightweight handle handle with lightweight grip, no fatique when used for a long time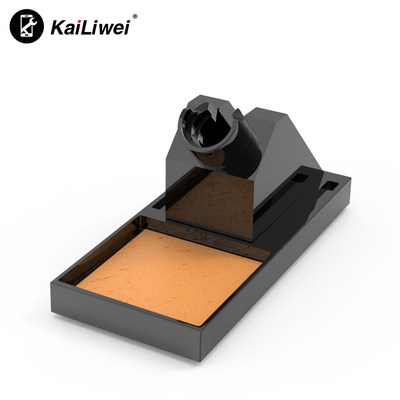 Handle base
Material :Phenolic resin material
Cleaning cotton:Activated carbon cleaning cotton
Size:157*70*77mm
Anti-scaldinq, anti-static, stable socket base
1、Technical Specifications
Power Consumption :75W
Output Temperature:200℃-480℃
Temperature Stability:stable / ±1℃
Ambient temperature:0-40℃
Handle cord assembly:1.2m
Display type:OLED displays.Chinese and English system
Size: 130*88*38mm
Battery: 3V
Display: 1.3inch
Weight:610g
Time of Melt tin:<8s
Product Material :Metal
2、Application:
Can be used for mobile phone maintenance, computer maintenance, electronic components welding.
3、Features
1. Visual temperature adjustment, digital display screen, intuitive and accurate.
2.Intelligent control, intelligent options, free switching.
3.Rapid heating, heating in 3 seconds, tin in 5 seconds.

4.Upgrade temperature control technology, rapid temperature rise and intelligent temperature control.
5.Two-in-one heating core soldering iron tip, quick installation, easy to tin, anti-oxidation.
6.Smart standby, safer and more power-saving.
7.Selected materials, heat-insulating silicone sleeve, stainless steel sleeve, one-piece knife heating core, electroplating protective metal layer, safe and reliable.

4、Matters needed attention

(1)Before using tip,please be sure you have tightened the nut for soldering head to aviod falling and damaging the iron tip. The temperature will be reached above 350℃ after soldering station is usea for 40 minutes,and the temperature of the front end of the handle will be reached 50-60 ℃. When T12 tip is used first time, the temperature will jump and show ERROR on display, it is normal due to the heating of the inner galvanic couple part of the iror tip,after repeated use for several times,temperature will be more stable.
(2)The tip is not continuously working at high temperature, which is easy to damage the tip.
The melting point of common solder is 183℃, the melting point of lead-free solder is 227℃, and the general welding temperature is 300-380 ℃.

380°C is the boundary of temperature. When the temperature is higher than 380°C, the iron head will oxidize and lose rapidly, which will seriously affect the life of heating core.The temperature display above 380 °C will jump, the higher the temperature, the greater the jump.
(3)It is recommended to carry out welding at 300-380℃, most of the work can be carried out, and the temperature beating is normal, which will not affect the use!
The soldering iron used in this welding station is a brand new soldering iron head. Because the resistance of the new iron head is not stable, the temperature will jump or error, which is a normal phenomenon. After multiple use, the stability will gradually stabilize.