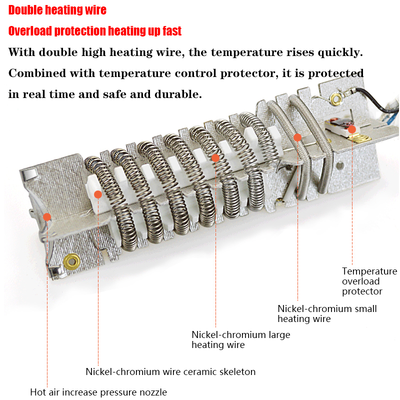 Heat Gun Core
Features:
- Overheating protection.
- Excellent heat resistance heating coil, could heating faster and have a longer life.
Material: Nichrome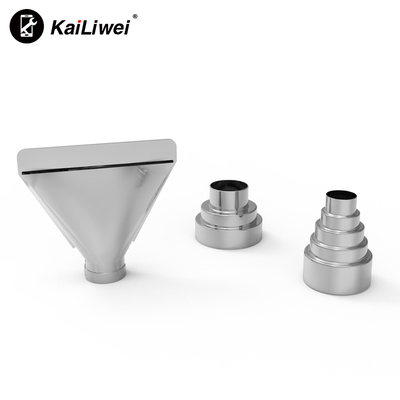 Nozzle (need to buy extra)
Deflector nozzle
Wider distribution of the hot air, for working on large serfaces-floors. doors , paint drying, paint stripping, car wrapping etc.
Concentrator Nozzles
Used for precise operations, for concentrating the air onto a smaller surface area, such as wrap a gift basket, loosen the screws, sticker removal repair the car bumpers and etc.
1.Product specifications:
(1)Model number: 855C heat gun
(2)Temperature range:60-600℃
(3)power:2000W
(4)Air flow: 300-500L/min
(5)Power source type: The AC power
(6)Rated voltage:220V
(7)Operating current:7.5A
(8)The noise decibel:50~60dbs
2.Applications :
Greatly used in various fields such as smartphone repair, car maintenance, shrink film shrinking work, PVC work, Stripping work, heat treatment processing, thawing, drying, and painting.
3.Feature:
(1)High quality heating elements ensure reliable and safe operation.
(2)The temperature and air volume can be easily adjusted.
(3)Two gears adjustable temperature, First gear 60-400 ℃, Second gear 400-600 ℃.
(4)Two gears adjustable air flow, First gear 250L/min, Second gear 550L/min.
(5)Power output is stable, fast speed, suitable for long time operation, to prevent overheating burned.
(6)Can be applied in soldering, welding PVC, shaping, drying, shrink-fitting, stripping paint, etc.
4. How to use and work:

Temperature adjustment: You can adjust the blowing temperature by controling the Temperature and air speed position switch. Depending on the application, Sliding the Induction pulley temperature control to adjust the temperature.
How to work ⇒ Stripping of paint: Use the tip nozzle (round nozzle or flat nozzle) to soften the paint with hot air
Remove it and scrape it off with the scraper.
Work method ⇒ Heat wrapping: Heat shrink wrapping and tube heat wrapping using the tip nozzle (flat nozzle).
Work method ⇒ Molding of resin pipe: Use the tip nozzle (curved surface nozzle) to uniformly warm the periphery of the resin pipe.
Work method ⇒ Peel off window frame putty: Use the tip nozzle (glass protection nozzle) to soften the putty with hot air.
Remove the putty with the scraper.