6. Air gun interface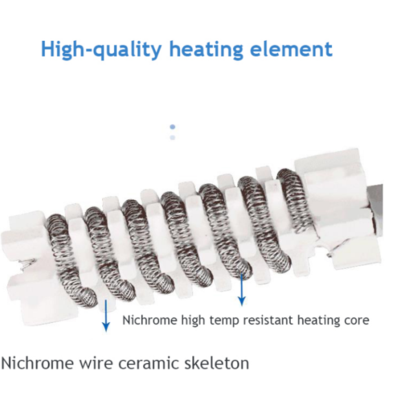 Ceramic heating core
High quality Nichrome high temp resistant heating core and Nichrome wire ceramic skeleton.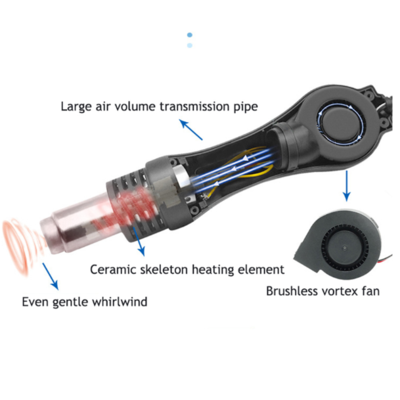 Air gun
Large air volume transmission pipe,Ceramic skeleton heating element,Even gentle whirlwind,Brushless vortex fan
1、Technical Specifications
(1) Power consumption: 700W
(2) wind type:rotational
(3) Wind muzzle type:Screw twist the mouth
(4) Auto-sleep or not:yes
(5) Temperature/wind regulation:knob/knob
(6) Input:220V
(7) Power consumption:700W
(8) Temperature range: 100- 500℃
(9) Noise level: ≤50db
(10) Fuselage size: 150*100*138mm
(11) Handle length: 120cm
2、Application:
Suitable in the soldering tin and the majority surfaces pastes installs the components the sealing off, like SOIC, CHIP, QFP, PLCC, GAG and so on.
· on the sealing off circuit wafer each kind of every large or small screen covers up, the box. The convenience is also quick. Pyrocondensation tube, polyvinyl-chloride pipe's hot contraction.
· the small metal, mechanical body's preheating, relaxes the firm firmware.
· polyvinyl-chloride, polystyrene, high temperature plastic, material stereotypia.
· the rime or freezes the thing, the water line, mechanical body's defrosting.
3、Features
(1) The sensor closed path, microcomputer zero crossing triggering controls warm, the power is big, Temperature precise stable, is not left the wind influence, realizes the non-lead sealing off really really.
(2) Air current quantity adjustable, and the amount of wind the wind is greatly gentle, the temperature control is convenient, may adapt the multiple functions.
(3) The system is equipped with the automatic cold wind function, may lengthen the heating element life and protect the hot air gun.
(4) The fuselage exquisite, is durable, is artistic.
(5) Uses the original installation import not to brush the air blower life to be extremely long, the noise is minimum, uses the high quality heating device, the efficiency may enhance one time under the same power, lengthens the heating device working life effectively and saves the power source.
(6) Blows the shielded box not to change color, is quickly convenient.
(7) Blows welds the line board not to bubble.
(8) Opens the solution to be gummed BGA-IC not Yi Duanjia, safer.
4、Note:
1) Hot air rework station outlet and the surrounding may have extremely high temperatures, care should be taken to guard against burns.
2) The heating handle must be placed in the handle holder, must not be placed in the working table or elsewhere.
3) Please keep the outlet open, can not have obstruction.
4) After the work is completed, it must be placed in the handle grip heating rack, let the machine automatically cooled to below 70 (into standby) to turn off the power switch.
5) According to the work requirement, first with a suitable wind Tsui, a different wind Tsui, the temperature may be slightly different.