858D Rework Solder Station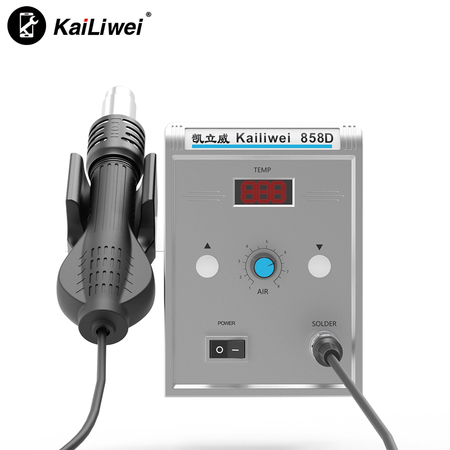 structure
1.The logo lable
2.Digital display screen
3.Air volume adjustment
4.Temperature button
5.Air gun interface
6.Switch
7.wind muzzle
8.High temperature protective sleeve
9.Air gun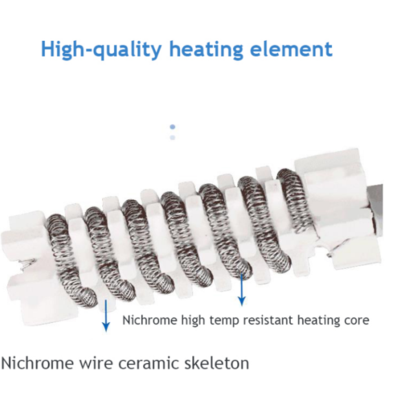 Ceramic heating core
High quality Nichrome high temp resistant heating core and Nichrome wire ceramic skeleton.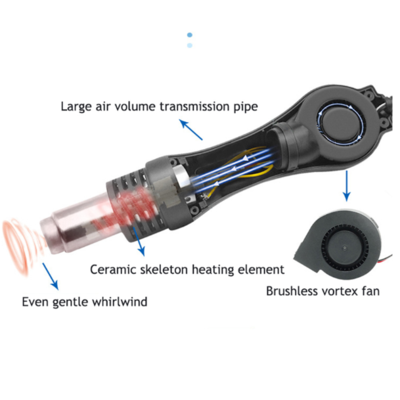 Air gun
Large air volume transmission pipe,Ceramic skeleton heating element,Even gentle whirlwind,Brushless vortex fan
1、Technical Specifications
(1) Power consumption: 700W
(2) wind type:rotational
(3) Wind muzzle type:Screw twist the mouth
(4) Auto-sleep or not:yes
(5) Temperature/wind regulation:knob/knob
(6) Input:220V
(7) Power consumption:700W
(8) Temperature range: 100- 500℃
(9) Plug type:EU plug/US plug
(10)Blower fan :Brushless Fan
(11)Amount of Wind:120L/m(MAX)
(12)Noises :<45db
(13)Weight:1.3KG
(14)Fuselage size: 150*100*138mm
(15)Handle length: 120cm
2、Application:
Fits for heating shrink, drying, lacquer removal, viscidity removal, ice-out, pre-heating and glue soldering and so on.
3、Features
(1) Use microcomputer control,warming-up quickly,to the setting temperature only within 3-5 seconds.
(2) Digital LED display,High power,Temperature stabilization and is impervious to air,Use the brushless fan,and long life and low noise.
(3) Automatic cooling function for effectively prolonging the heater's life and protecting the hot air gun.
(4) Safely remove BGA-IC,keep pins intact,Much more safe and reliable,Blowing PCB will not make it blister.
(5) Essential product for cell phone repair, laptop repair, circuit boards, etc,Suitable for unsoldering multiple components,such as SOIC CHIP QFP PLCC and BGA etc (especially for flat cables and cable connectors).
(6) Air current quantity adjustable, and the amount of wind the wind is greatly gentle, the temperature control is convenient, may adapt the multiple functions.
4、Note:
(1)Due to the handle have Precision Horizontal Sensor,When you pick up the handle ,tube nozzle toward up, the gun will automatically step into standby model.when the temperature is less than 100 Degrees,the screen display(-),the equipment is on standby model,after temperature of heating element is less than 70°,it will automatically stop rotation,it use for protecting the hot air gun life.
(2)Hot air rework station outlet and the surrounding may have extremely high temperatures, care should be taken to guard against burns.
(3)The heating handle must be placed in the handle holder, must not be placed in the working table or elsewhere.
(4)Please keep the outlet open, can not have obstruction.
(5)After the work is completed, it must be placed in the handle grip heating rack, let the machine automatically cooled to below 70 (into standby) to turn off the power switch.
(6)The use of the air and the object of the minimum distance is 2 mm to the outlet calculations.
(7)According to the work requirement, first with a suitable wind Tsui, a different wind Tsui, the temperature may be slightly different.