8586 Rework Solder Station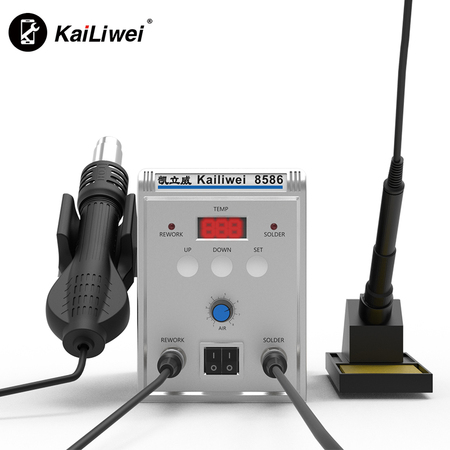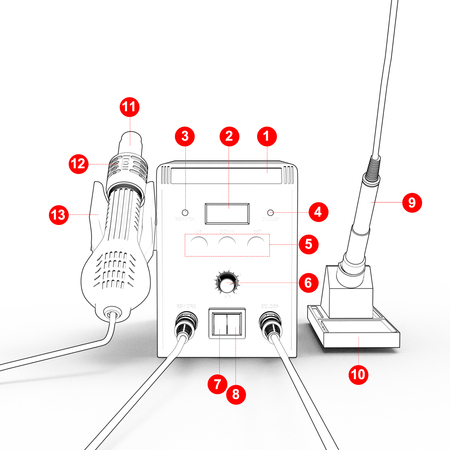 structure
1.The logo lable
2.Digital display screen
3. Rework Indicator light
4. Solder Indicator light
5. Temperature control button
6. Wind speed adjustment
7. Rework switch
8. Iron switch
9. Soldering iron
10. Soldering iron base
11. wind muzzle
12. High temperature protective sleeve
13.Air gun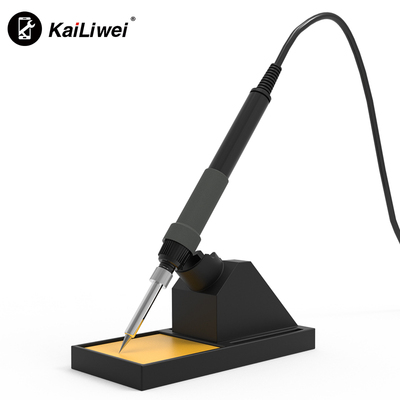 Soldering iron
High qualityl heating core,Stainless steel casing,handle with light weight grip, no fatique when used for a long time.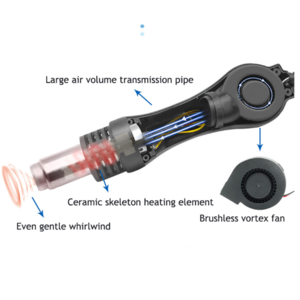 Air gun
Large air volume transmission pipe,Ceramic skeleton heating element,Even gentle whirlwind,Brushless vortex fan
1、Technical Specifications
(1) Power consumption: 700W
(2) wind type:rotational
(3) Wind muzzle type:Screw twist the mouth
(4) Auto-sleep or not:yes
(5) Temperature/wind regulation:Button/knob
(6) Input:220V
(7) Power consumption:700W
(8) Temperature range: 100- 450℃
(9) Plug type:EU plug/US plug
(10)Noises :<45db
(11)Weight:2.5KG
(12)Fuselage size: 240*200*100mm
2、Application:
Unsoldering multiple components, such as SOIC ,CHIP, QFP, PLCC, BGA and temperature-sensitive components(especially for flat cables and cable connectors) ;
Applicable for hot contraction, heating, depainting, degluing, defrosting. Preheating and rubber soldering, and so forth.
3、Features
1. Hot air and hot iron 2in1 soldering rework station
2. Extremely low noise and space saving design
3. Digital PID technology to enhance temperature stability
4. Adjust the airflow and temperature control rotation easily
5. Automatically stop rotation when the temperature is less than 70°C
6. Intelligence self-detection function features safe personal operation
7. Automatic cooling function for effectively prolonging the heater's life and protecting the hot air gun
8. ESD design of soldering iron to protect sensitive components
9. International standard heater for convenient use and exchange
10. High-quality resistance for durable use
11. Plastic holder for placing the hot air gun,alloy iron stand for keeping the iron from flammable materials
12. CE approved
4. Notice:
(1) Do not touch the nozzle.
(2) Keep away from children.
(3) Do not use for hair dryer
(4) Do not direct the heat toward human or animal.
(5) Do not use it in wet condition
(6) Focus when working.