AS600D Soldering Station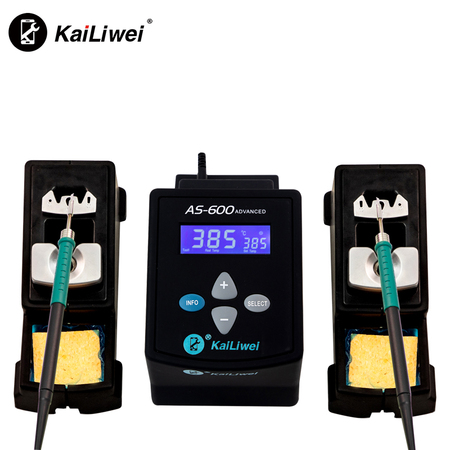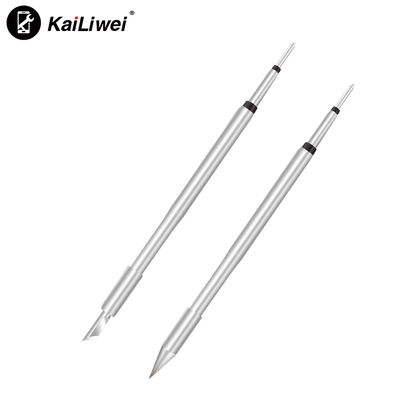 Heating core integrated

welding head
Integrated design soldering tip,
Increased heat transfer efficieney rugged and durable.
Super mini soldering tip,easy to handle a few millimeters welding spot .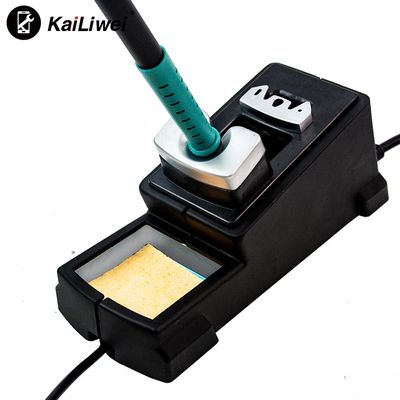 Handle base
W- type groove design can be used to temporarily install other welding heads to be used. Three parts can be removed and replaced, and the welding heads can be quickly replaced when working at high temperature.

Put in base into Sleep Mode ,Take out back to setting temperature.
1、Technical Specifications
1. Power:220VAC 50HZ
2.Rated power: 75W
3. Peak power: 150W
4. Temperature range: 100-450℃
5.Temperature adjustment and
display: button adjustment,
LCD display
6. Temperature stability :±1 °C
7. Input voltage 220V/110V
8. Tip to ground resistance <1Ω
9.Tip to ground voltage <2mv
10.Safety protection: safety transformer, double
insulation
11.Two handles can be connected to work at the same time, and the temperature can be switched.
12.Two handle base.
2、Application :
Phone repair,Computer repair,Electronic component welding.
3、Features
AS-600D soldering station is equipped with newer aerospace technology and is manufactured with high-tech environmentally friendly materials. It has established a new standard for lead-free low-temperature soldering beyond the limits of traditional soldering station energy consumption, temperature control, temperature recovery and welding quality. Products that increase production efficiency and reduce production costs.
(1) Intelligent control, surpassing the temperature limit of the traditional lead-free soldering station.
(2) Beyond the soldering temperature limit of traditional lead-free soldering stations.
(3) Beyond the limit of high energy consumption and low efficiency of traditional lead-free soldering station, it is truly efficient, low-cost and green.
(4) Beyond the service life and cost-effectiveness of traditional lead-free soldering stations.
(5) Beyond the calibration temperature of traditional lead-free soldering stations and powerful online management functions.
(6) Improve production efficiency, reduce acquisition costs, and improve product quality.
(7) Two handles can be connected to work at the same time, and the temperature can be switched,two handles base.
4、Mechanical description
(1) Heating core integrated welding head(replaceable)
(2) GB power cord plug standard GB(replaceable)
(3) Soldering iron intelligent sleep function
After use, put the soldering iron handle into the specified sleep Jack, and then start cooling and standby to prevent the soldering iron from being burnt to affect the service life and reduce the energy consumption of resources.
(4) New generation soldering iron wiring mode
The bottom of the soldering iron bracket table is equipped with handle interface, and the bracket table can be connected with the host to further extend the length of the handle wire to prevent static electricity from damaging human body.
(5) Rear anti-static interface
Anti-static connection to prevent electrostatic damage components and human body to protect your use safety.
(6) High-end lead-free soldering station
There are two soldering iron interfaces at the back of the machine which can be connected with two soldering iron to work at the same time, and the multi-function of one machine is more efficient
(7) Advanced wenteng heating technology built-in microprocessor drives the heating system to sense the size of the welding spot through thevelding head, which can freely change the power from 75 w-150 W,intelligent and efficient.
(8) Quick replacement of welding head
5、Security Code
When the power is turned on , the tip temperature is hot. Given the abuse may cause burns or fires , strictly observe the following:
Do not touch the metal parts near the tip .
Do not use near flammable objects tip .
Notify other personnel workshop , the tip burns easily , may lead to dangerous accidents, should be completed after the break , or turn off the power .
When replacing parts or devices tip , you should turn off the power , and until the tip is cooled to room temperature.
Do not tamper with welding units .
Do not wet welding sets , or wet hands when using the welding station .
welding will smoke , workshops should be well ventilated.
without any physical injury or damage may be frivolous objects when using the soldering station .