Heat gun 877B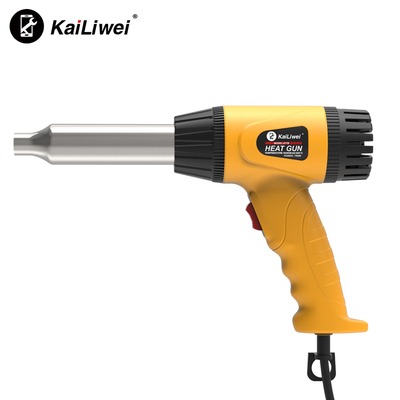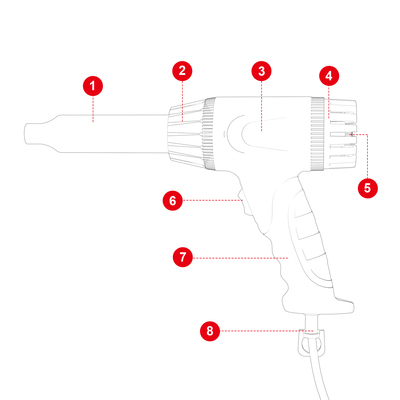 structure
1. Stainless steel nozzle
2.High temperature protective sleeve
3.The logo lable
4.Dustproof air inlet
5. Spinning temperature
6.Wind speed gear switch
7.Ergonomic handle
8.Power cord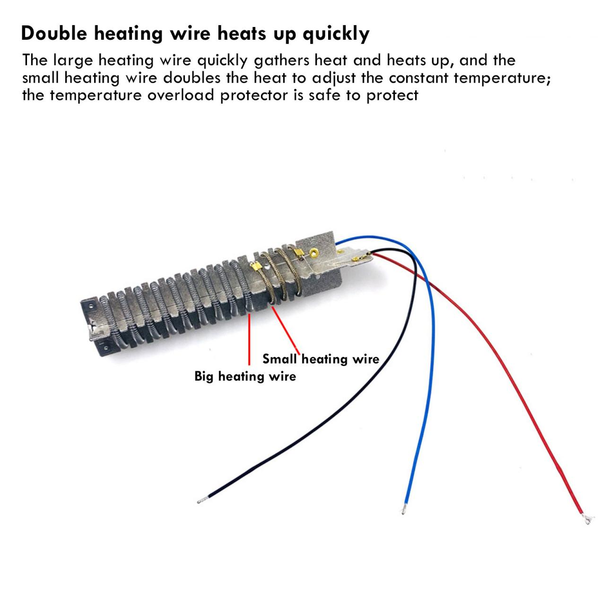 Heat Gun Core
Features:
- Overheating protection.
- Excellent heat resistance heating coil, could heating faster and have a longer life.
Material: Nichrome
1. Product specifications:
(1) Type: temperature regulating hot air gun
(2) Rated voltage: 220 V
(3) Working temperature: 60-600℃
(4) Working current: 6A
(5) Power:750W
(6) Air flow: 150-300L/min
(7) Power supply type: AC power
2. Application:
1) Hot Air Gun Function:Hot Air Guns can be used in many industries such as chemical electronics, hardware, plastic molds, and integrated circuit rework.
2) Welding function: welding large-capacity objects, non-slip handles, good insulation effect.
3. Features: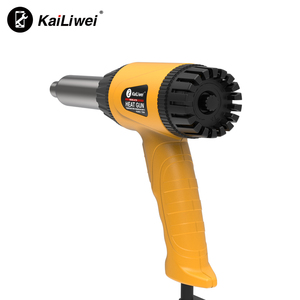 1) Non-slip handle
Anti-skid handle design, not easy to
slip, is conducive to safe operation.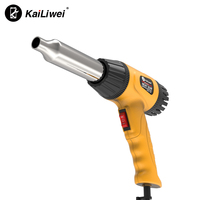 2) Temperature and speed switch control key
" || " High temperature and high wind speed gear
" | " Low temperature andl low wind speed
" O "Shutdown file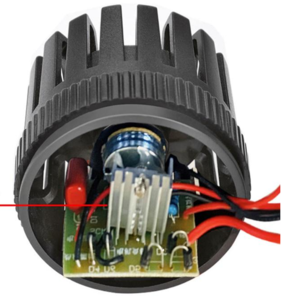 3) Temperature control motherboard
High precision 500K potentiometer, accurate temperature control, intelligent constant temperature, high efficiency.
Enlarged radiator, faster heat dissipation, more stable motherboard performance, longer life.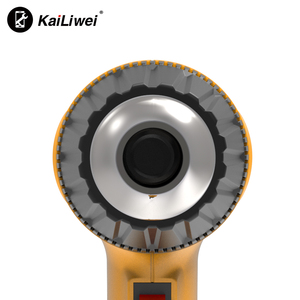 4) Wide range of 60-600C temperature adjustment welding Rotate knob
Cooling counterclock wise60°
Clockwise heating up 600℃
4. Direction for use
(1) Insert the plug into the power socket and keep it well grounded.
(2) The Heat gun switch from the lower to the middle (low temperature heating),and then to the upper (high temperature heating),you can carry out the welding operation.
(3) The temperature of the heat gun can be adjusted from 60°C to 600°C, and the plastic plate becomes soft when it is heated to 130°C -140°C, with a litte pressure, it's ready to go. Using Electronic Thermostat to get the required welding temperature, welding temperature is generally around 240°C, welding should pay attention to the distance between the pot nozzle and the welding spot.
(4) The end of the operation, the first switch to the middle, and then the temperature control knob to the lowest, and so on 2 minutes, and then turn off the power, so that you can extend the service life of the heat gun.
(5) Don't let the heat gun out of your sight while in use, and if you do, unplug it no matter how long it takes.
(6) Welding gun with light to put, so as not to damage part of the welding gun refractory data, and short- circuit heating wire.
(7) After six months of use, a few drops of pure white oil should be added to the bearings of micro motors to reduce friction.
(8) Don't dismantle it yourself if you're not a professional.
5. Notice:
(1) It may cause sparks or smoke during the first run or produce a lot of plastic burnt smell. This normal phenomenon will disappear within five minutes or will slowly disappear after use.
(2) Disconnect the power after use. Please put the plastic welding torch at a low temperature to completely discharge the hot air before closing.
(3) Use only the same replacement parts for maintenance.
(4) Disconnect the power after use. Please put the plastic welding torch at a low temperature to completely discharge the hot air before closing.
(5) Do not touch the nozzle.
(6) Keep away from children.
(7) Do not use for hair dryer
(8) Do not direct the heat toward human or animal.
(9) Do not use it in wet condition
(10) Focus when working